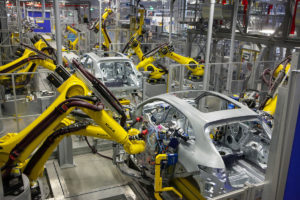 Jamsco Automotive Assemblies is a BBBEE company operating within the automotive sector of South Africa. It was founded by Mrs Hayley Eagle after joining the Automotive Industry Development Centre's (AIDC) Incubation Programme in January 2012. Jamsco partnered with Sodecia SA, a Tier 1 supplier to Ford, who produces 21 welded sub-assembly components.
Since 2012 Hayley Eagle has been the business owner of Jamsco Automotive Assemblies (PTY) LTD ensuring that quality parts are delivered. All parts produced by Jamsco conform to the Original Equipment Manufacturer (OEM) globally accepted standards. Jamsco currently produces a stamped Z bracket that is exported to Ford Argentina and FMCSA. Jamsco has 25 years of experience in the automotive sector having worked for Mercedes, BMW, Delta and managed a suspension repair garage in Cape Town.
Automotive Stamping

Key Technologies

Metal Pressing

Tier 1 supplier to OEM
Access to Sodecia owned Romer arm Ultrasonic Robots Spot welding machines
250 Ton Eccentric Press
Located in Wadeville, Johannesburg.
News and Media: